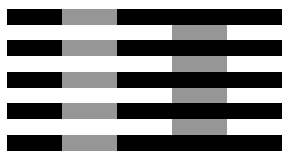 White's illusion is an optical illusion illustrating the fact that the same target luminance can elicit different perceptions of brightness in different contexts. Note, that although the gray rectangles are all of equal luminance, the ones seen in the context with the dark stripes appear brighter than the ones seen in the context with the bright stripes. Note that this effect is opposite to what would be expected from a simple physiological explanation on the basis of simultaneous contrast (in that case the rectangles sharing the long borders with the dark stripes should appear brighter).
External Links
Edit
Coming Soon!
Ad blocker interference detected!
Wikia is a free-to-use site that makes money from advertising. We have a modified experience for viewers using ad blockers

Wikia is not accessible if you've made further modifications. Remove the custom ad blocker rule(s) and the page will load as expected.