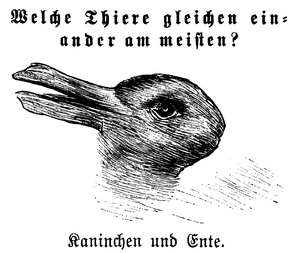 The rabbit–duck illusion is an ambiguous image in which a rabbit or a duck can be seen.
The earliest known version is an unattributed drawing from the 23 October 1892 issue of Fliegende Blätter, a German humor magazine. It was captioned "Welche Thiere gleichen einander am meisten?" ("Which animals are most like each other?"), with "Kaninchen und Ente" ("Rabbit and Duck") written underneath.
The image was made famous by Ludwig Wittgenstein, who included it in his Philosophical Investigations as a means of describing two different ways of seeing: seeing that/seeing as.
External Links
Edit
Ad blocker interference detected!
Wikia is a free-to-use site that makes money from advertising. We have a modified experience for viewers using ad blockers

Wikia is not accessible if you've made further modifications. Remove the custom ad blocker rule(s) and the page will load as expected.