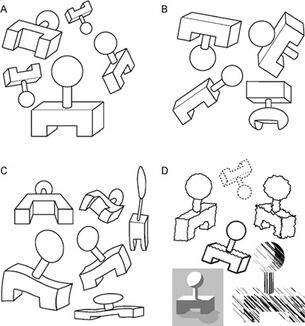 Invariance is the property of perception whereby simple geometrical objects are recognized independent of rotation, translation, and scale; as well as several other variations such as elastic deformations, different lighting, and different component features. For example, the objects in A in the figure are all immediately recognized as the same basic shape, which are immediately distinguishable from the forms in B.
They are even recognized despite perspective and elastic deformations as in C, and when depicted using different graphic elements as in D. Computational theories of vision, such as those by David Marr, have had more success in explaining how objects are classified.
Emergence, reification, multistability, and invariance are not necessarily separable modules to model individually, but they could be different aspects of a single unified dynamic mechanism.