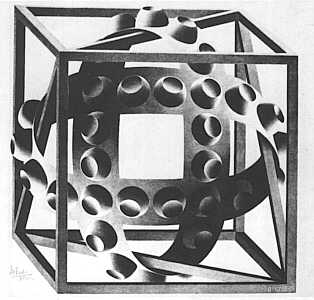 Cube with Magic Ribbons is a lithograph print by the Dutch artist M. C. Escher first printed in 1957. It depicts two interlocking bands wrapped around the frame of a cube. The cube framework by itself is perfectly possible but the interlocking of the "magical" bands within it is impossible. This print is significant for being the first Escher drawing to use a trueimpossible objects.
Ad blocker interference detected!
Wikia is a free-to-use site that makes money from advertising. We have a modified experience for viewers using ad blockers

Wikia is not accessible if you've made further modifications. Remove the custom ad blocker rule(s) and the page will load as expected.